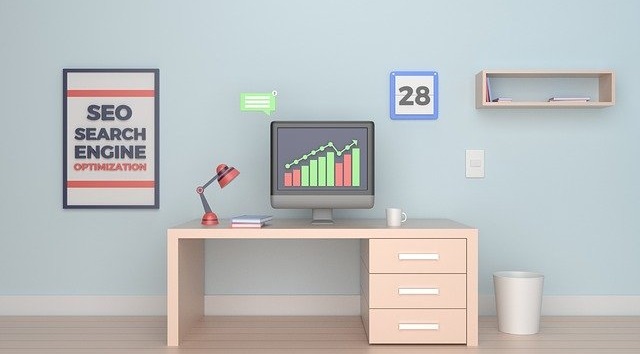 68% of online experiences begin with a search engine1. When you are developing a website it is important to keep SEO factors in mind. SEO plays a crucial role in the success of businesses online. Ranking for relevant search queries becomes easier if a website is built with both users and search engines in mind. Working with a professional website development agency in Jamaica can help ensure that your website is search engine ready. In this article, we explore some key SEO factors that should be addressed during website design and development.
No-index Tags:
A no-index tag tells search engines not to add a particular page to their search index. This will ensure that the page that you have added the no-index to will never show up in search results for any search queries. There are several instances where you would need to prevent certain pages from getting indexed. When you are in the process of developing a website, you should place a no-index tag on the entire website because it is still a work in progress. Once development is complete you can remove the tag and Google will start indexing the website.
Even after a website is live you may choose to add a no-index tag to certain pages. These are pages that should not show up in search results. For example, pages that have thin content like a thank you page. Search engines have a limited 'crawl budget' for websites. You can use no-index tags to optimize the crawling of your website and ensure that search engine crawlers do not waste time on low priority pages.
URL redirection & custom 404 error pages
If you are redesigning an existing website, you may choose to update the URL structure of certain pages. In such an instance you must implement a 301 redirect from the old URL to the updated URL. This will ensure that if the old URL is indexed or linked in an article or email somewhere, users will not get a 404 error. They will be redirected to the new URL for the page.
If you are dealing with a very large website, there may be some instances where you miss implementing a redirection or users might sometime type in an incorrect path. In such instances they will get a 404 error. Ensure that your website development agency implements a custom 404 page for your website. You can use a custom 404 page to redirect users to your most important pages. Instead of hitting a dead end, users will have the opportunity to find the information they are looking for.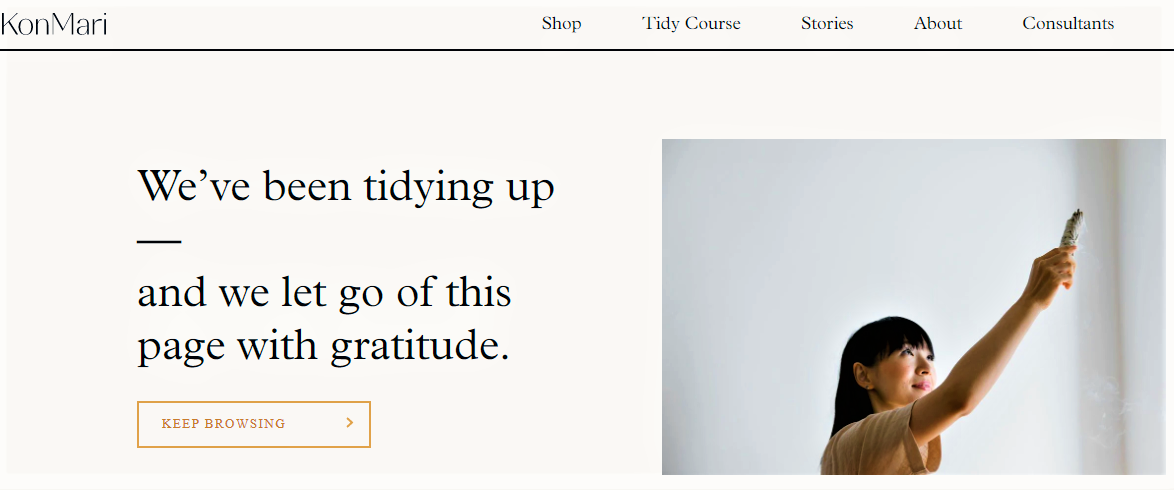 A good 404 page can be used to convey a brands personality and can turn a negative user experience into a moment of user delight. A good example of this is the 404 page for Marie Kondo's website KonMari.com. Marie Konda has become famous for her organization and decluttering philosophy. The website humorously acknowledges Marie's philosophy of letting possessions go through its 404 page and asks users to 'keep browsing'.
Robots and Sitemap
The robots.txt file and sitemap of a website have a huge impact on how search engines index pages. An error in the robots file can stop an entire website from being crawled by search engines. You can use the robots.txt file to block crawlers from wasting time on pages with low value content like tag pages. You can also block harmful bots and crawlers from going through your website. Ensure your website development agency checks the Robots.txt file before launching the website.
The sitemap is a blueprint of your website for search engine crawlers. The XML sitemap tells search engine crawlers that these are the pages on your website and how it can find them. If your website is built with WordPress, using a SEO plugin like Yoast will ensure that your sitemaps are automatically updated when you add a new page to your website. If you are not using WordPress talk to your development agency about the equivalent plugin or extension for your CMS of choice.
Here's an example of an XML sitemap: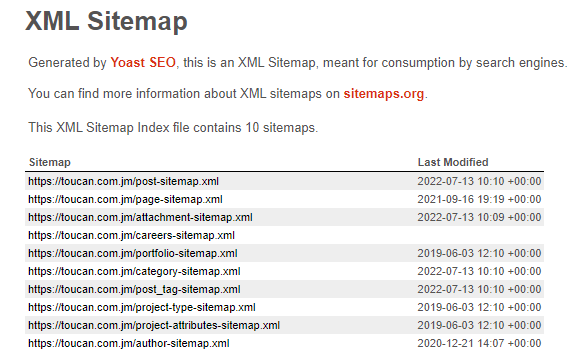 If you are looking for website design and development services in Jamaica, contact us at Toucan. Our team of website designers and developers are well-versed in building search engine friendly websites that support SEO activities to secure high search engine rankings. We also provide mobile app development, content creation and digital marketing services.
Source:
Jun. 2020, S. Ong, "63 SEO Statistics", Ahrefs, [available online], available from: https://ahrefs.com/blog/seo-statistics/, [accessed Jul 2022]
Location: Kingston Jamaica