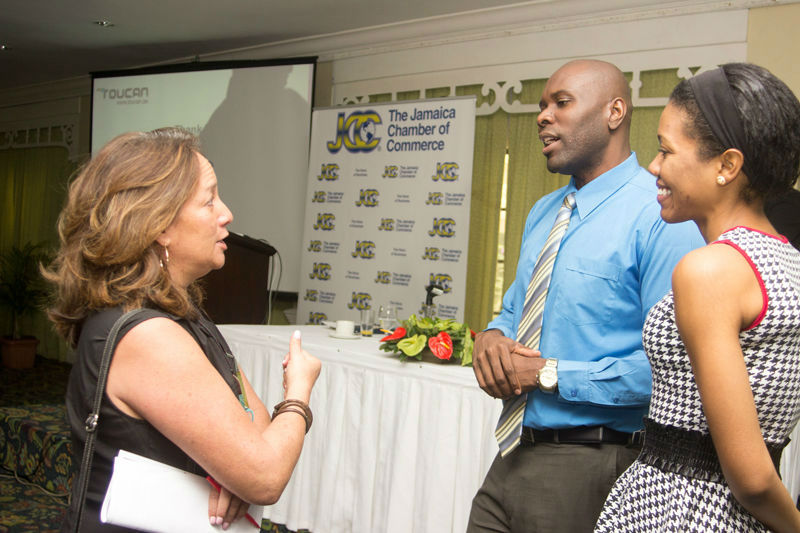 Dubai, U.A.E.: – The Jamaica Chamber of Commerce, through its Competitiveness Series, "is seeking to play its part in building and promoting competitiveness in our local businesses and by extension Jamaica's economy," according to C.E.O., Trevor Fearon. The Chamber recently partnered with Toucan Jamaica to share best practices with the Chamber's members on using digital media, under the theme "Digital Media Guide: Navigating to Success."
General Manager of Toucan Jamaica, Devon Hunter, described digital media as a "powerful and effective strategic business tool, but the possible benefits can only be achieved by having the right strategies to extract that value." He added that it requires thinking differently about marketing and seeing the digital space as more than a place for fun, but as a goldmine for audience insights, transactions and co-creation in brand building.
In his presentation, Mr. Hunter outlined the opportunities that the digital space has to offer to Jamaican businesses, especially SMEs. He argued that the Internet serves as an "equalizer" for SMEs to compete both locally and globally. Two key statistics from a report compiled by The Boston Consulting Group, a global business strategy firm, showed that SMEs that make extensive use of the web grow significantly faster and that the Internet Economies of the G-20 countries is projected to reach 4.2 Trillion dollars by 2016; this could prove to be a very profitable market for Jamaican businesses.
Toucan's support and advocacy for the use of the digital space and the need for having the right strategy was demonstrated through their exclusive offer to the members of the Jamaica Chamber of Commerce to benefit from their Pay For Performance Model, which would see Toucan being paid based on their achieving certain targets for its clients. Toucan's Pay For Performance Model is about sharing the business risk and empowering clients to take calculated risks to make an impact in the market. Mr. Hunter said, "we turn our clients into partners for success".
About Toucan: Toucan Limited is a Digital Agency incorporated in Dubai, offering strategic support on Internet Advertising & Marketing, Online Consumer Engagement, Web Design & Publishing, Search Engine Optimization and overall digital engagement and campaign management to businesses in emerging markets.
The company has a subsidiary in Jamaica. Toucan's Jamaican offices are located at Suite 202, 34 Annette Crescent, Kingston 10, Jamaica. Phone: + 1 876 925 3624. The web site is www.toucan.com.jm